Another Successful Project Homeless Connect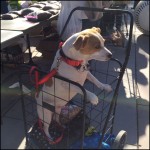 I'm glad Seniors To The Rescue was able to be a participant in the 2015 Project Homeless Connect supporting homeless pets.  I'd like to thank my best friend, Bert Hornbeck, for being there with me again this year to hand out our Snuggle Beddies and Pet Treat Bags, the seniors at Atria Sutton Senior Living in Las Vegas and Sunrise Senior Living in Henderson for tying the blankets, baking dog treats and bagging them up and my Angel Donors for supporting us throughout the year so that we can purchase the supplies to make our projects with the seniors for the rescue and shelter animals.
This year we handed out over 100 blankets and dog and cat treat bags.  Next year we'll have to start putting more aside as we could have handed out at least another 75.
Again thank you for everyone's support in making a difference in the lives of homeless animals.