Special Books Made for Dementia Patients
Article by Elizabeth Nelson
Thank you, Rachel for creating these books and Elizabeth for sharing.
Rachel Thompson first got the idea to design books for people with dementia when her grandmother, Marilyn developed the disease about 12 years ago and slowly lost the ability to read. Reading had always been an important pastime in Thompson's family and a hobby she and her grandma bonded over, so the whole family felt it was a shame when Marilyn could no longer enjoy the books that used to fill her time and bring her so much joy.
Then one day, something unexpected happened. Grandma Marilyn began reading the headline of a newspaper out loud without trouble. It was then that Rachel and her family realized that she hadn't lost the ability to read at all; she simply couldn't see well anymore and had trouble remembering things like how to turn the pages of a book.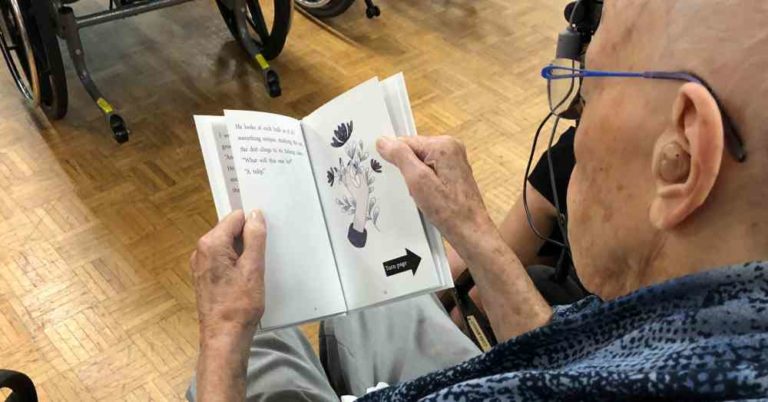 So Rachel decided to design a book that could help her grandmother and others like her continue to read even when their mental faculties are failing them due to Alzheimer's and other diseases. She paired the idea with a senior research project she was already working on at the University of Waterloo and eventually developed into Marlena Books, a start-up company named for Rachel's two grandmothers, Marilyn and Helena, who have both suffered from dementia.
Rachel thoroughly studied the procedural memory, particularly the way the procedural memory changes in people with dementia, before she began prototyping books for people in memory care facilities to try out.
Marlena books are printed in large font with good contrast, come with pictures, and tell stories that remind seniors of the good old days. Every page spread features a large arrow to remind readers to turn the page when they get to the end of it.
A year later, Rachel and her team began working on a plan to incorporate technology so that books would be able to change with the ever-changing needs of dementia patients. She created an easy-to-use app that allows seniors to access a variety of e-books and change the settings depending on their individual needs.
Marlena e-books have the same high-contrast and big-print design, complete with page-turning support, but they also offer a wide range of books and reading levels on one device. The app is easy to use and optimized for seniors with dementia to be able to understand and navigate, and accessibility features can be turned on and off depending on need and preference.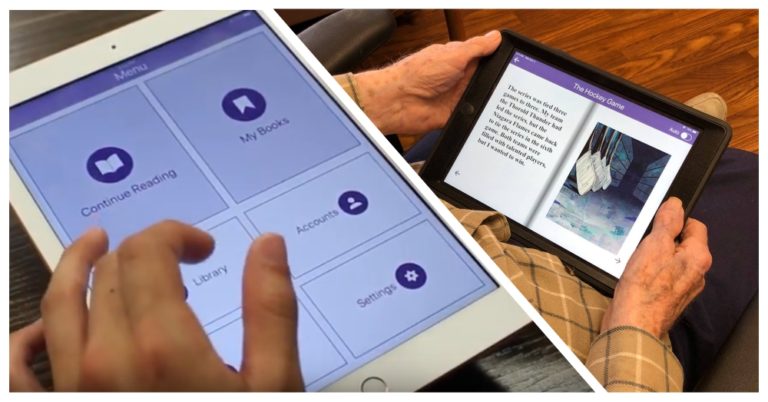 The e-books also function as audiobooks and can be personalized to allow the patient to hear his or her name in the story to help hold that person's attention. Music is an option in the e-books too, a feature many seniors suffering from dementia find attractive.
For some people, the ability to read books may not seem like such a terrible skill to lose. But for book lovers, the inability to read robs them of a favorite hobby, as well as the mental workout that reading can provide. Reading fills the vast amount of free time seniors with dementia are left with now that they do many of the other things they used to do and contributes to each patient's sense of purpose and well-being.
Check out some of the features of Marlena Books in the video below.
The Marlena team intends to continue to improve their products by tracking when individuals read, how long they read for, and which genres they most often choose. This data can also help families of people with dementia better understand their loved ones' needs.
Together we are more than dementia! Share to spread the word about these amazing products that have the power to increase the well-being of dementia patients across the world!
Elizabeth Nelson is a wordsmith, an alumna of Aquinas College in Grand Rapids, a four-leaf-clover finder, and a grammar connoisseur. She has lived in west Michigan since age four but loves to travel to new (and old) places. In her free time, she. . . wait, what's free time?
Want to help fund research for Alzheimer's and other organizations for FREE.  Just click below and make a difference everyday. It takes less than 1 minute.
CLICK TO GIVE – FREE